SKYE
Anterior Cervical Plate System
The Skye Anterior Cervical Plate System consists of self-tapping screws and plates. Screws are provided in diameters of 4.0mm and 4.25mm diameters with lengths ranging from 12mm to 16mm. The screws are also available in fixed and variable angulation options. Plates are available in 1-level to 4-level options, in lengths spanning 14mm to 84mm across the various levels.
The Anterior Cervical Plate System is indicated for anterior screw fixation of the cervical spine (C2-C7) as an adjunct to fusion. These implants have been designed to provide stabilization for the treatment of the following indications; degenerative disc disease (defined as neck pain of discogenic origin with the degeneration of the disc confirmed by history and radiographic studies), spondylolisthesis, trauma (i.e., fractures or dislocations), spinal stenosis, deformity (i.e., kyphosis, lordosis or scoliosis), tumor, pseudarthrosis or failed previous fusion.
PRODUCT FEATURES: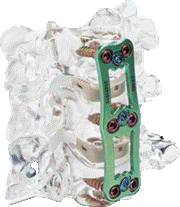 Low Profile – 2.5mm
Simple (one step) Locking Mechanism
Pre-lordosed to accommodate patient anatomy
Comprehensive range of plate sizes (1-4 level constructs)
Variable screws provide up to 24° of angulation
Fixed and Variable screws, 4.0 mm and 4.25 mm, 12.0 mm – 16.0 mm lengths
Contact us
Whether you are a rep or distributor looking for a new line, or a surgeon looking to collaborate with an agile enterprise to develop innovative products, please contact us!